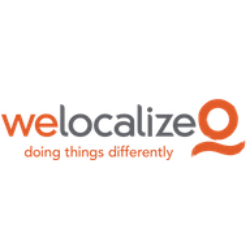 Welocalize
United Kingdom New York 15 W 37th St, 4th Floor
Translation, Localization, Interpretation Jobs
Sales (inc. pre-sales and lead-generation)
Management (incl. project, product management & human resources)
Company Detail
As a trusted global transformation partner, Welocalize accelerates the global business journey by enabling brands and companies to reach, engage, and grow international audiences. Welocalize delivers multilingual content transformation services in translation, localization, and adaptation for over 250 languages with a growing network of over 77,000 in-country linguistic resources. Driving innovation in language services, Welocalize delivers high-quality training data transformation solutions for NLP-enabled machine learning by blending technology and human intelligence to collect, annotate, and evaluate all content types. Our people work across offices in North America, Europe, and Asia serving our global clients in the markets that matter to them.
Current Opening
Are you passionate about all things digital? We ar...
OVERVIEW The BDD will work as a part of the globa...