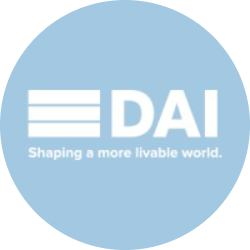 DAI
United States of America Bethesda, MD 7600 Wisconsin Avenue, Suite 200
Translation, Localization, Interpretation Jobs
Sales, Business Development, Business Consulting
Company Detail
DAI is an international development company. For 50 years, we have worked on the frontlines of international development, tackling fundamental social and economic development problems caused by inefficient markets, ineffective governance, and instability. Currently, DAI is delivering results that matter in nearly 200 countries. Our development solutions turn ideas into impact by bringing together fresh combinations of expertise and innovation across multiple disciplines. Our clients include international development agencies, international lending institutions, private corporations and philanthropies, and national governments.
Company Overview
Established 1970
Employees 5,001-10,000
Email ******@dai.com
Websitehttp://dai.com/
Current Opening
Thank you for your inquiry about employment opportunities at our company. Unfortunately, we have no open positions at this time. Please check this page again later.