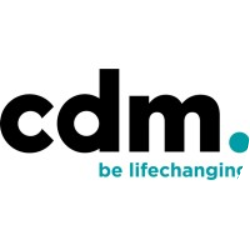 CDM London
United Kingdom London 90-100 Southwark St, London SE1 0SW
Marketing and PR, Advertising and Creative Media Jobs
Company Detail
PM Society Best of Show Winners Overlooking The Shard and St Paul's Cathedral from the 5th floor of Omnicom's Bankside HQ, CDM London used to be considered a sleeping giant of the London agency world. Despite long term support from the mighty CDM NY, the London agency had never hit the heights that the CDM name deserves. A 3-year turnaround at the agency has resulted in a true agency rebirth. A new agency leadership team with plenty of ambition and a determination to work alongside our clients to produce impactful, surprising and engaging work has resulted in a burgeoning creative reputation and a flourishing and growing business. Build on a solid basis of the CDM values of Substance, Style, Conviction and Grace, CDM London's mission is to cultivate healthy brands through trusted partnerships with bold clients, and of course marketing-moving creative thinking. With 6 nominations and 3 Cannes Health Lions in 2015, CDM London was named runner up in Cannes Health Agency of the Year in 2015, success that acted as the driving force behind The CDM Group being named Cannes Health Agency Network of the Year, 2015. CDM London has continued to bring in awards at every major show since, including the Best of Show at the PM Society awards in January 2017 The sleeping giant has awoken, and the future looks bright.
Company Overview
Employees 51-200 employees
Email ******@omncicomhealthgroup.com
Websitehttp://www.cdmny.com/
Current Opening
The growth of CDM London demands that we identify,...