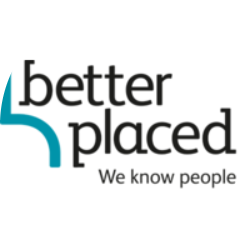 Better Placed Ltd
United Kingdom Leeds, West Yorkshire 2 The Studios, The Quays, Concordia Street, Leeds, West Yorkshire LS1 4ES, GB
Translation, Localization, Interpretation Jobs
Marketing and PR, Advertising and Creative Media Jobs
Market Research, Research Jobs
Journalism Jobs
Company Detail
We are one of the largest independent recruitment ​consultancy's in the UK and we are a Sunday Times Top 100 company to work for. Operating out of our three offices; Leeds, Manchester and London and specialising in marketing, digital, tech, sales and executive search, we are the experts in recruitment and we have the largest and most diverse network of clients and candidates. What makes us different ? At Better Placed, we believe in building "real" networks. It's our way of describing our guiding principles when it comes to resourcing and we're convinced that it really sets us apart. But what exactly does that mean? It's like this. One of our fundamental beliefs is that a great placement isn't about hurling masses of CVs at clients you don't really understand. Rather, it's about matching candidates and employers through deep insights and strong networks. You can't do that reliably unless you take the time to create an understanding of both candidates and employers which goes well beyond the superficial. So unlike some other recruitment organisations, we always try to go beyond online relationships and get to know people in the real world by talking and listening, preferably face-to-face. We try to take the time to understand what really makes an organisation a great place to work. Similarly, we try to establish what candidates are really about, rather than lazily taking their CVs at face value. Understanding the 'real' side of things helps us to satisfy our promise of fitting people to organisations, not just CVs to jobs. So, if you believe that the best conversations don't start with a #, give us a call. We'll invite you over (for a socially distanced meeting of course) and invariably put the kettle on.
Company Overview
Established 2001
Employees 11-50 employees
Email ******@betterplaced.com
Current Opening
This is a really exciting role for an existing sen...
I'm currently working with a leading distributor w...
Do you live and breathe copywriting? Are you curre...