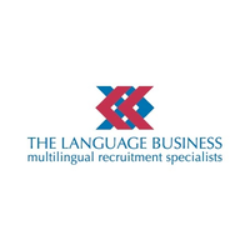 The language business
United Kingdom London Suite 103
Translation, Localization, Interpretation Jobs
IT, Software development, System Engineering Jobs
Telecommunication, Call Centre, Customer Service Jobs
Sales (inc. pre-sales and lead-generation)
Management (incl. project, product management & human resources)
Banking, Finance, Insurance, Accounting and Trade jobs
Administrative office management jobs
Market Research, Research Jobs
Marketing and PR, Advertising and Creative Media Jobs
Management Executive
Company Detail
Established in 1989, The Language Business is one of the UK's leading and specialist multilingual recruitment consultancies. With nearly 30 years of experience, our passion is to provide you with an outstanding level of recruitment service, whether you are a client or a candidate. We pride ourselves on spending time with both clients and candidates to fully understand your needs and expectations and ensure that we find the right multilingual job match for everyone. Our highly trained and experienced consultants are always available to meet with you to discuss your multilingual recruitment needs and assist you with your job search. We think it is essential for companies wishing to succeed in international markets to hire multilingual staff. As the former German Chancellor Willy Brandt once remarked, "If I am selling to you, I speak your language. If I am buying, dann müssen Sie Deutsch sprechen". Please call us on 020 8503 7766 to have an initial chat to see how we can help – if you are a candidate, we can offer you great job opportunities to utilise your multilingual skills, or if you are a client we will help you to recruit a terrific, multilingual business professional.
Company Overview
Email ******@languagebusiness.co.uk
Current Opening
Thank you for your inquiry about employment opportunities at our company. Unfortunately, we have no open positions at this time. Please check this page again later.