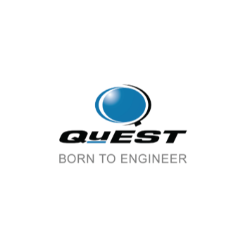 QuEST Global
Singapore Singapore 7, Temasek Boulevard, #09-04 Suntec Tower One
IT, Software development, System Engineering Jobs
Translation, Localization, Interpretation Jobs
Company Detail
For more than 20 years, QuEST Global has aimed to be a trusted global product engineering and lifecycle services partner to many of the world's most recognized companies in the Aero Engines, Hi-Tech, Aerospace & Defense, Transportation (Auto and Rail), Power and Industrial, Oil & Gas and Medical Devices industries. QuEST Global's deep domain knowledge and digital expertise aim to help its clients accelerate product development and innovation cycles, create alternate revenue streams, enhance consumer experience and make manufacturing processes and operations more efficient.
Company Overview
Established QuEST Global was started in 1997 by Ajit Prabhu and Aravind Melligeri in Schenectady, New York.
Employees With a presence in 13 countries, 56 global delivery centers and 11,250+ personnel, QuEST Global believes that it is at the forefront of the convergence of the mechanical, electronics, software and digital engineering innovations to engineer solutions for a safer, cleaner world.
Email ******@quest-global.com
Current Opening
Thank you for your inquiry about employment opportunities at our company. Unfortunately, we have no open positions at this time. Please check this page again later.